VICTORIA POLICE CORRUPTION (736 PAGES)
For years the Victorian Police force has prostituted itself as being ëstraightí and without corruption. Unfortunately the reality is very, very different. The fact is, corruption in the Victoria Police force has run rampant and beyond control. In more recent years, rackets involving Police have become ever more blatant, on an ever increasing scale and extend to the highest levels. The entrenched police culture protects even the most overt of corruption, including bribery, frauds, forgeries, systematic assaults, thefts, illegal armed raids, extortion rackets, gun running, set-ups, murders, ëfixingí inquests, lying in court, perverting the course of justice,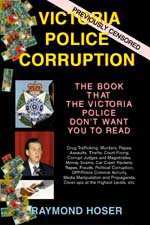 bribing the judiciary, drug trafficking, Police sex offenders and a whole host of other illegal activities. All this and more is detailed in Victoria Police Corruption. In June 1995, The Hoser Files – The Fight Against Entrenched Official Corruption, for the first time exposed systematic corruption in the Victorian Police and elsewhere. The Police response to the book was to effectively ban it from sale. In spite of this, the first print run of 6,000 copies sold out. However since that book was published, a steady stream of new evidence of Police corruption has come to light. Victoria Police Corruption details much of this newly revealed corruption and should be read by all Australians. IT HAS ALREADY BEEN ACCLAIMED AS THE BIBLE OF POLICE CORRUPTION BY ONE REVIEWER. The book basically covers all areas. As with The Hoser Files, corrupt officials illegally took steps to prevent publication of the Victoria Police Corruption, while it was still being prepared. The book also details previously unpublished material detailing alleged criminal activity and/or corruption involving people such as Premier Jeff Kennett, Commissioner Neil Comrie, Victorian Ombudsman Barry Perry and and others.
http://www.smuggled.com/vrb2.htm
Names Index for the entire book
C = Corrupt or adverse mention (at least once in this book)
N = Neutral or benign mention
http://www.smuggled.com/VPCNI.htm
1/ Persons not indicated as corrupt here, may be corrupt and/or adversely named in other Hoser books. Those indexes should also be checked. They can also be checked on the internet at http://www.corruptionbooks.com by following the relevant links
2/ Not all mentions of adversely named persons may be adverse.
N Abbott, John 681
N Abbott, Tony 10
C Abdullah, Gary John 396, 415
N Acquaro, Joseph 128
C Adair, Patrick James 400
C Ackland, Peter 423
C Adams, Alexander David 38
C Adams, Frederick, 23
C Adams, Hugh Francis Patrick 22, 54-57, 75-76, 400, 414, 476-510
N Adams, Jeff 477
C Adams, Steve 496